About Website
"Shantibrahma Shri Eknath Maharaj Mission "is a social service oriented organization dedicated to Saint Eknath Maharaj and the main objective of this organization is to spread the message of Nath. The website www.santeknath.org was inaugurated with the aim of making Nath's official information available to readers, scholars and devotees all over the world. It was inaugurated by Shri Vijay Bhatkar on 13/1/2012 at Shri Eknath Maharaj Samadhi Mandir Paithan.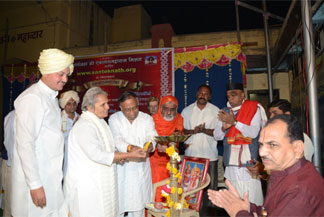 The basic concept of the website is of the founding president of the mission, H.B.P. Shri. Yogiraj Maharaj Gosavi and Shri. Makrand Shahapurkar. Shri. Prasad Dharmadhikari and Mrs. Pallavi Dharmadhikari, of Xposure Infotech, Nashik, have been doing the technical planning of the website with a service-oriented attitude
The website highlights various aspects of Saint Eknath and has a list of books on Natha as a research resource for the researchers. Similarly, the Guru tradition of Nath, lineage tradition, disciple tradition, etc. are included. Most importantly, it includes the biography of Nath with his selected literary works (Abhang, Bharud, Gaulani, Ovya), poems written on Nath etc. also included.
This website will soon be made available in English, Telugu, Kannada, Gujarati etc. The literature of Nath will be available for free download.
This website is translated in English by Dr. Prof. Vijaykumar Ambadasrao Patil, Takalgaonkar, Mumbai. The "Shantibrahma Shri Eknath Maharaj Mission" is thankful to him. We are also thankful to Mrs. Swaroopa Joshi and Kshitija Joshi, Gosavi, for proofreading of the website in English.
From the beginning of the creation of this website to its inauguration, many people have cooperated. Shri. Nandkishore Saljoshi of Parimal Photos have provided the photographs of Paithan and its surroundings. Shri. Eknath Aparampar also gave old photographs. The co-operation to get the information about Nath of Shri Venimadhav aka Sardar Maharaj Gosavi ( Nath's descendants) is really important . Similarly, Shri Vaibhav Shah (Pune), Shri Rajendra Thoradmal (Karjat), Shri Shrikrishna Barate (Pune), Shrihari Pandit Gosavi (Paithan), Shri Pushkar Gosavi, Mrs. Jagruti Jahagirdar, Mrs. Aditi Gosavi, Ms. Priyanka, Ms. Pranjali, Shreyas, Gyanraj, Chaitanya Gosavi, Srinandkishore Najan, Shri Gaurav Apamarpar, Shri Ganesh Shedge, Shri Balasaheb Bhalekar, Shri Shreyas Kulkarni, Shri Ravindra Dange, Shri Umakant Bajaj, Shri Devendra Shinde, etc. The mission is grateful for all of this.
It is humble request for all to visit the website of Shri Eknath Maharaj with the obljective of giving wide publicity to the life and literature of Shri Eknath Mahara.