Histroy:
Background
The distinguished ancestors of Saint Shri Eknath Maharaj handed over to him the great tradition and culture of Paramartha. He took this tradition and culture ahead and set apex standards and made it a grand resplendent. We all take the Darshana of Shri Vithala, at the temple of Pandharpura in Maharashtra, the credit of this goes to his great-grandfather Shrisaint Bhanudas Maharaj.
ShriBhanudas was born in 1448 in a Rigvedi Brahmin family. As a child, through his worship, he got the blessings of Suryanarayana. Nath says, 'Jyane Balpani Aklila Bhanu | Swaye Jahala Chidbhanu | Jinkoni Manabhimanu | Bhagawatpavanu Svaye Jala || Though he became a clothing merchant, he never missed the Pandharpura Wari (pilgrimage of Pandharpura). Because it was the traditional rule of the family/clan.
Bhanudas maharaj says, "Amuchiye Kuli Pandhricha Nema | Vache Sada Naam Vithalache || (In our clan we go to Pandhari | Chant the name of Vithal ||") He became famous for a historical event. Once, King Krishnadevaraya, King of Vijaynagar, came to Pandharpura. He thought that he would take and keep ShriVithal in his kingdom and he did so. At Ashadhi Wari, the Warkaris (devotees of Shri Vithal) gathered in Pandhari to take the Darshana of ShriVithal. When they came to know that the God, for whom they came, was not in the place thus they were crying. There Bhanudasa assured them that, 'I will bring back Vithal." Bhanudas Maharaj left for this task. After few days, at midnight he stood in-front of Shri Vithal. He requested Vithal, "Deva (O God) all your devotees are waiting for you at Pandhari. Please come with me."
Vithal put his garland of Tulasi and nine-gems around the neck of Bhanudas and advised him to be little patient. Bhanudas left that place. At Kakada aarti, the Poojari saw that the garland of Navratna (Nine gems) was missing. The news reached to the king. The king ordered to hang the thief immediately when found. Soldiers spread everywhere to search the thief. Early in the morning, at the bank of the river Tungbhadra, Bhanudas was doing Sandhya. A soldier saw Bhanudas wearing the garland of Navratna. The soldier arrested Bhanudas assuming that he was the thief. And the soldier decided to hang him. At that time, the following Abhanga appeared through Bhanudas. – Jai Akash var Pado Pahe | Brahmgol Bhanga Jaye | Vadvanala Tribhuvan Khaye | Tari Tuzich Vaat Paahe Ga Vithoba || The crucifix that was prepared for him broke. If we have to explain this event in his language- Kordiya Kashti Ankur Futale | Yene yethe Jale Vithobache ||
This news reached to the king. The king trembled, realizing that what he thought was a thief, was not a thief but was a great devotee. He realized his mistake. He thought that the one to whom I thought as the thief, is really not a thief but must be a great Bhagwat-devotee. Vithal warned him that he would not stay with him as he had persecuted his devotee. Bhanudas took Vitthal and left for Pandhari. When he reached Pandhari, all the devotees (Warkaris) became happy and they took out a procession of Shri Vithal on the chariot. That day was Kartiki Shuddha Ekadashi 1506. Even today, kartiki Ekadashi Rathotsav is celebrated to commemorate this day. Bhanudas ended his journey to this world.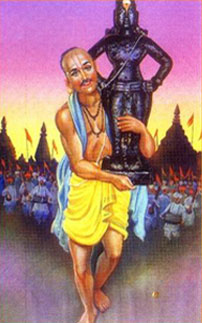 While going to the Darshan of Shri Vithala, in the pavilion the Paduka at the right-hand side of the door, is the Samadhi of Shri Bhanudas Maharaj. Even today, the Samadhidin is celebrated by the Warkaris. On this day, every year, Samadhi Pujan, Naivedya, and Kirtan, etc. are traditionally performed by his descendants. In order to partially be debt free from the devotion of Saint Shri Bhanudas, Vitthala was born in his lineage in the form of Saint Shri Eknath Maharaj. Bhanudasache Kuli Mahavishnucha Avatar | Kshetra Pratishthan Vasti Godaritir || Niloba Maharaj.